---
Over the course of the last couple of months, our worlds have all been turned upside down. For Haymakers, in particular, our events have been postponed, fighters have had to train from their own homes rather than at the gym, and there are a lot of unknowns. While it could very well be easy to focus on the negative and everything that isn't happening right now – instead we've been surrounded with nothing but positivity.
During this time, we've been so encouraged seeing many of our partners, sponsors and alumni-owned businesses doing their part to help give back. Whether it is changing their facilities to producing face masks or sanitizers, donating product or just spreading joy – we wanted to take the time to highlight just some of the amazing work being done and the way that our community has come together for the greater good.
---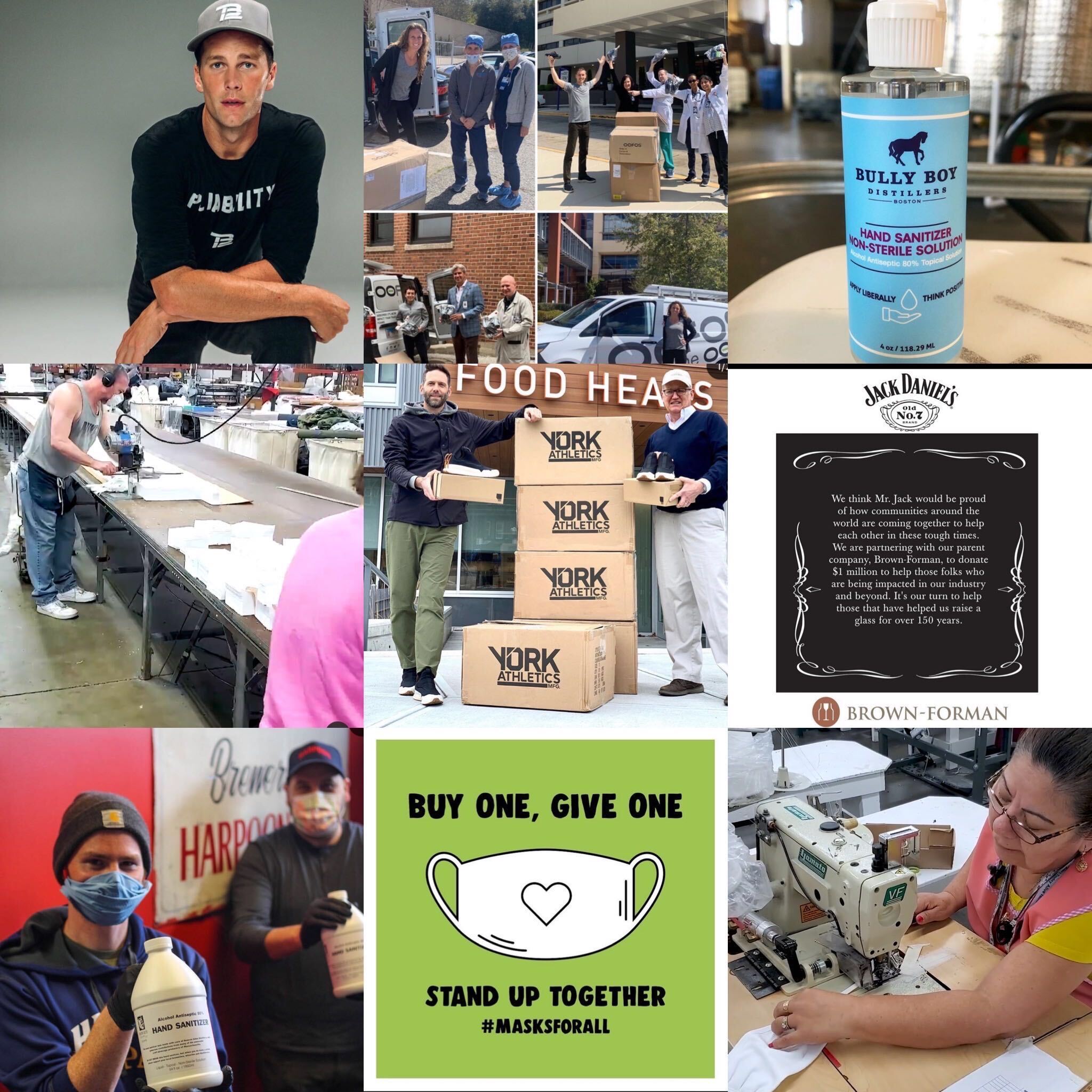 YORK Athletics – We've partnered with the team at YORK for many years to help KO Cancer. Not only are they an amazing group of people, but we LOVE their kicks (seriously, it's rare to walk into the office and not have at least one H4H team member in a pair of YORKS). So what better way for them to give back than to literally help keep the front line on their feet – which is exactly what they've done. Right now, you can donate or give a pair of their brand new Gail sneakers to someone on the front line, and in exchange, YORK will hook you up with a free pair of kicks of your choice.
All you have to do is follow these easy steps…
1. Head to their website here
2. Add a pair of Gail's to your cart
3. Add any pair of kicks to your cart for free as YORK's way of saying thank you
4. Check out
5. Spread the word! More donations mean more support for our frontline workers!
#FightFromHome
Phunkshun Wear – Owned by Haymakers Denver Alumni, Jay Badgely, Phunkshun Wear makes some of the coolest neck tubes and ski & snowboard masks we've seen. But with high demand for facemasks from both the front line workers and everyday citizens – they've changed up production and are now producing Personal Hygiene Masks. Plus for every PH Mask, you purchase for yourself – they'll donate one to the Colorado Mask Project! Check out their masks & other gear here to help support (and cover your face!) #MasksForAll
American Giant – If you were lucky enough to receive a commemorative H4H fighter hoodie from American Giant then you know the bulletproof quality of their apparel. We love AG and stand behind everything they make and do! Especially since they worked to retool their North Carolina facilities and retrain their team of remarkable seamstresses! They are now making HHS-certified medical masks and distributing them to the front line medical personnel that are confronting this crisis. In need of some durable new swag? Check out everything they've got and support!
Oofos – Founded by a friend who battled cancer, Oofos specializes in recovery footwear and has supported Haymakers for Hope over the course of the years! With our shared mission to KO Cancer, every purchase made on oofos.com contributes to finding a cure for Breast Cancer. Over the course of the last month, Oofos has donated over 1,200 pairs of recovery footwear to hospitals across the country. Their unique OOfoam technology and footbed provide much-needed relief for those long shifts. Plus, all their shoes are antimicrobial and machine washable which makes for easy cleaning! Do your feet a favor and check out all their recovery footwear, which could technically serve as your new "business shoes" if you're now working from home!
TB12 – If you're from New England then you know TB12 well (Farewell Tom). Tom and the TB12 Team are fully behind our mission to KO Cancer and are also stepping up their game to battle COVID-19! The TB12 community is actively supporting national and local charities across the country responding to COVID-19 by giving back during this time of need. Make a purchase from their site and a portion will be donated! Additionally, any healthcare member working to fight the pandemic can book a complimentary virtual session with a TB12 Body Coach to help with their physical and mental wellness!
Bully Boy Distillers – Co-founded by H4H Boston Alum, Will Willis, Bully Boy Distillers has rocked our world with some delicious rum, vodka, and other alcoholic treats. Now they have pivoted to help make and distribute hand sanitizer for those who are most in need!
Other Beer & Spirit Partners –While it's comforting to know these next brands are patiently waiting in your liquor cabinets and fridge to help get you through this pandemic, they're also stepping up in a big way to provide much-needed support to the front lines, service workers that are out of a job and many more. We are fortunate to be associated with so many brands that have not only supported our mission to KO Cancer but are also giving back to their community in any way they can.
Tito's Handmade Vodka – Producing & distributing hand sanitizer
Harpoon Brewery – Producing & distributing hand sanitizer to consumers & front line workers
Breckenridge Distillery - Producing & Distributing hand sanitizer
Jack Daniels + Brown-Forman – Donating $1 million to help those impacted in the industry
Proximo Spirits – Donating $1 million to help those impacted in the industry
Blue Point Brewery – Order from Blue Point and you can make a meal donation to frontline healthcare workers!
Pernod Ricard USA – Producing & distributing hand sanitizer
Gyms & Trainers - Not only are our partners, sponsors, and alumni run businesses giving back, but the gyms and trainers we work with year after year are also there for you during this time. Take a virtual class, learn new boxing techniques or take on one of the many challenges they're throwing your way. Check out our constantly growing list of partner gyms and their associated virtual training offerings that will keep you fit (and sane) during quarantine!
---
Most importantly, to the doctors, nurses, pharmacists, dentists, medical personnel, EMT's, Police Officers, firefighters, grocery store workers, custodians, postal workers, delivery drivers, bus drivers, train conductors and all those doing their part to help keep us safe, YOU are the real heros. THANK YOU for the invaluable work you are doing for the community. And to everyone staying home, thank you for also doing your part! We are all in this together, and we have no doubt we'll come out of this even stronger than before!