Tuesday, September 10 2019
---
Jesse Stephens likes to try things. Even a short conversation with the real estate investor will get him ticking off hobbies and activities. He lists wrestling, football and lacrosse among sports that have held his interest, and while he's always casually followed boxing, the sweet science is a new addition to his lineup. He's quick to point out his latest activity can be lonely, but when Jese gets into the ring for his first fight in the inaugural Haymakers for Hope event in Washington DC, he'll have his whole family behind him; he's fighting against the disease that took one of his own.
Jesse remembers hearing about Haymakers for Hope's mission to KO cancer when he lived in New York City, and when signups for the first DC event were announced, he saw his opportunity to make a difference. "My wife's Aunt Connie passed recently after a long battle. She has two kids who are the same age that my brother and I were when we lost our parents. Thinking about my wife's cousins and seeing them go through something familiar for me made me get up and think 'This is bullshit. This is too hard for someone to go through at any age.' I remember thinking I wished there was something I could do, even if it meant buying someone else's family just one more day with their parents."
Jesse says his family is nervous to see him fight, but excited to rally around his cause. They've been supportive since he first signed up and were responsible for most of his early donations. He's clearly part of a family of fighters, first among them Aunt Connie.
"She came to terms with her own mortality and started reaching out being more outspoken about screening and prevention. She felt very strongly that had the HPV vaccine been available, she wouldn't have had to deal with this," Jesse says. "I know she would have been supportive. She had her own cancer research fundraiser about a year ago, so if feels nice to be continuing that."
The familial connection has helped Jesse in the gym, too. "The mission of Haymakers for Hope, fighting against this disease comes into my mind before and after every training session. I try to approach a bad day or rough sparring session by telling myself to try harder, and remember why I'm training. This is something bigger than me, more important than me."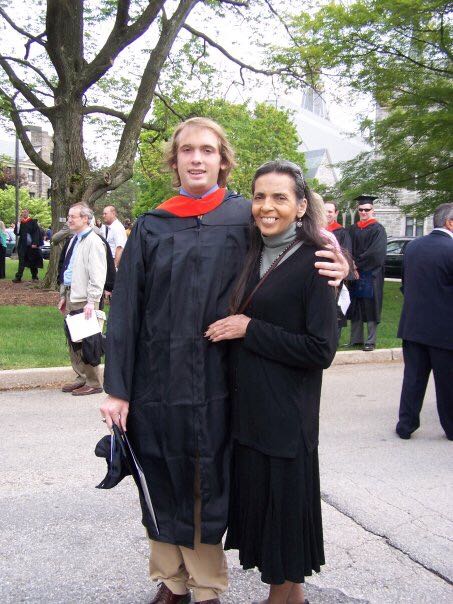 WRITTEN BY STEPHANIE KENT